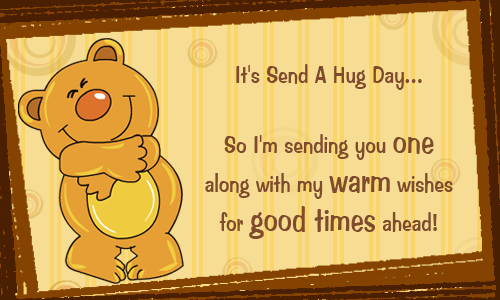 I am a hugger; I like to hug my friends and family. When I see close friends, I embrace them and give them a hug that lasts for a few seconds. For friends that I may not be as close with, the hug does not last as long. If you hug for too long, it can become awkward...right?!
I have memories of hugs from certain people and I clearly remember the emotions from that hug. For example, when I was going through a difficult time many years ago, I remember a close friend hugging me while I cried. I was still sad, but I felt a burst of energy and love from this friend. It's amazing what hugs can provide in times of crisis or need. Furthermore, I've given hugs when I felt the friend needed it.
Hugs can say so much more than words can, especially when we're not sure what to say. Hugs can provide emotional and physical comfort, and it sends a message of affection, connection and friendship. There's something very intense about a hug, especially with a close friend.
However, I realize not everyone likes to hug and is the huggy-type; it depends on the person. Some of my friends just don't seem to like to hug and even though we may be close, the hug is more of a quick thing and not an embrace. It truly depends on the person and the comfort level she has with physical touch. It's one of those things you notice right away about your friends.
What are your thoughts on hugs? Do you hug your friends or are you not the huggy-type?